These are events where the art on display may not just be viewed; rather the opportunity to purchase exists. "Art Fairs," based on the premise of conveniently viewing art and having the opportunity to purchase that which takes your fancy, have begun to attract attention. In recent years, such events have also been held in Osaka.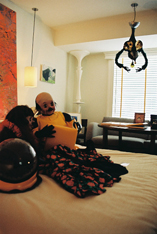 A picture of the ART OSAKA 2008 venue / Art Court Gallery
"Art Fairs" could be described as a form of "Art Market." These events involve a large number of art galleries congregating on a single location and establishing booths which feature the work of their represented artists. This work is offered for sale to interested parties.
Globally-recognized art fairs have been held regularly in leading cities including Basel, London and New York, with such events attracting both art dealers and art collectors from around the world. Indeed, the art fair phenomenon has become an important source of momentum for matters artistique.
In Japan as well, the popularity of such events has grown in recent years, with major art fairs being held annually in both Tokyo and Osaka.

A picture of the ART OSAKA 2008 venue
<left>Gallery Nomart <right>Gallery KAZE
In the case of Osaka, however, it would inaccurate to view art fair events as a recent social development. Rather, stretching back to the 1980s, Osaka has played host to regular, modestly-sized art fairs that were held at various publicly-funded cultural facilities. Initially, Kansai Region art galleries represented the participatory core of these events. Over time, however, the scale of such events grew as participants from outside the Kansai Region were attracted to these gatherings. In 2007, in line with the shift of such events to the Dojima Hotel in the Kitashinchi District, ART OSAKA was born.
At ART OSAKA, instead of following conventional practice and displaying art by hanging it on blank whitewashed walls, stylish hotel guestrooms are used as a display vehicle. These rooms feature furniture elements coordinated by graf, an Osaka-based creative unit that produces a wide range of spatial, furniture, lighting, graphics, and product-related concepts and designs. At ART OSAKA, participating art galleries are each assigned an individual guestroom in which to display their wares. Some galleries attempt to present their commissions in a manner that reflects the uniqueness of the work, while others mount their work in such a way as to coordinate it with a room's original interior furnishings. Others still may offer a few selected works by simply lining up 5 or 6 pieces, while others may utilize every conceivable display surface in their assigned rooms, placing art everywhere, from the bedsteads through to the bathroom. The manner in which works are displayed contributes to projecting an image of the different galleries and the sense of "color" they possess. The pricing of works on display also varies widely in catering to the needs of different budgets; small works by young artists may cost in the region of \20,000-30,000 per item, while it is also possible to purchase individual works with price tags of several hundred thousand yen.
Throwing in locational convenience and the event's novelty, last year ART OSAKA was able to draw approximately 4,500 visitors over the 2 days it was held.

We asked Yoshio Kato, ART OSAKA Event Producer, to share his views on the success of ART OSAKA.

Q: What factors have contributed to the success of ART OSAKA?
Yoshio Kato: There were many factors that have contributed to our success. First, we have increased the number of galleries participating in the event. We approached a number of galleries who participated in an event held in Tokyo, and we also invited several galleries from outside Japan to join ART OSAKA. Our goal is to enhance the diversity of the artwork exhibited, equally including different art genres in the roster of work on display. In addition to providing a place to buy and sell art, we also introduced a program that features auctions, symposiums, and talks regarding art-related topics. Through such elements, we hope to help visitors gain a better understanding of the art industry and the environment that surrounds it. Furthermore, to attract visitors from outside the Kansai Region, we held ART OSAKA during the Tenjin Festival, in order that visitors to Osaka would be more inclined to stop by ART OSAKA as part of their sightseeing schedule. This year, ART OSAKA is scheduled for the same weekend as the Aqua Metropolis Osaka 2009 commencement events. Last year, ART OSAKA recorded both the largest sales turnover and the largest number of visitors to date in its history.
Q: What sort of artwork sold strongly at ART OSAKA last year?
Yoshio Kato: The majority of work sold last year onsite at ART OSAKA was priced under \200,000. This is a price point below which people do not usually think twice before making a purchase. Buyers at the event varied greatly with art dealers, collectors, investors, and relative novices all represented. Many of these first-time buyers didn't know until they came to ART OSAKA that they could buy art for as little as \20,000-30,000 per item. Indeed, I think many of these people had always wanted to add genuine art to their rooms but did not know where to find it. They also probably felt somewhat self-conscious and uncomfortable stepping into art galleries themselves. At ART OSAKA, on the other hand, people can be more relaxed and feel at ease, while looking around and picking out those works of art they like. In many respects, shopping for art is just like shopping for clothes or other daily necessities. My hope is that ART OSAKA prompts such art novices to start visiting art exhibitions regularly.
Q: Some media outlets often feature contemporary art in order to promote it from a fashion perspective. What are your thoughts regarding such matters?
Yoshio Kato: Cartier, Hermes, Louis Vuitton, and many other fashion brands actively sponsor contemporary art galleries and exhibitions. They occasionally develop product lines in collaboration with artists as well. If fashion magazines and other media picking up on the promotion of art by popular fashion brands help to promote the accessibility of the art itself, then I am all in favor of it.
Q: Tell us about the future goals and directions of ART OSAKA
Yoshio Kato: Merely expanding the scale of ART OSAKA will result in something ordinary and less unique. Rather, we aim to continue to be a quality art event through attracting more and more leading galleries from both Japan as well as other areas of Asia. Over some 20 years of both trial and error, it has always been our mission to support young talented artists by continuously giving them opportunities to present their work. We favor this policy rather than using young artists only once and then discarding them. It is also our goal to nurture the development of a quality customer base instead of allowing ourselves to be at the mercy of any transitory booms in art.
While a single day does not give a person much time to visit many different art galleries, the "Art Fair" concept is a construct in which visitors can be exposed to a large volume of art, without having to travel from one location to another. Art fairs act as a conduit between art galleries and persons interested in art. Art fairs also create a place where each gallery can define its individualism, while individuals can also show support for their favorite artist.
ART OSAKA will continue to inspire potential art connoisseurs with its high levels of both accessibility and transparency, gradually promoting a new way by which art may be enjoyed.

A picture of the ART OSAKA 2008 venue
<left>an auction conducted by Kenta Oka <right>lecture on "Aqua Metropolis Osaka" by Mr. Fram Kitagawa