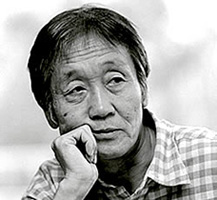 Yukichi Matsumoto

Within a climate that sees the Tokyo metropolis dominate much of Japan's performance culture, there is a genre in which the Kansai area enjoys an absolute lead over other areas of Japan. This is the genre of open-air performances, or so called "tent performances." Reinforcing this dominance, the 8th Osaka Outdoor Performance Festival, probably the world's only performance festival held exclusively utilizing outdoor venues, is currently underway at various open-air venues throughout Osaka City (the festival runs until October 21st). Within Kansai's outdoor performance culture, Ishinha(The Reformation), a performance troupe led by the writer and stage producer Yukichi Matsumoto, has been a Kansai icon for years. After some thirty odd years, Ishinha continues to develop new, powerful productions once or twice each year. Such performances include outdoor programs that are held once every few years. These spectacular performances, which feature maximized incorporation of open-air performance techniques, have attracted the eyes of audiences and critics worldwide. As a troupe, Ishinha has been invited to, and has performed at a number of theatrical festivals throughout the world.

The Ishinha troupe was formed in 1970 (it was originally named Nihon Ishinha), when Yukichi Matsumoto was a university student majoring in fine art. Initially, the troupe's productions were what could be categorized as outdoor artistic performances, containing certain surprising elements. Since the mid-1980s, however, Ishinha has transformed its performance style to the building of large-scale open-air theatric spaces whose conceptualization tends to be specific for each production. In the 1990s, Ishinha established a unique expressive style named "Jan Jan Opera." This style has become the basis of the troupe's contemporary performances. Jan Jan Opera is characterized by dialogue that sounds like a sequence of unrelated words, music written by Kazuhisa Uchihashi that contains an irregular rhythm, and choreography comprised of robotic movements. The troupe's goal is neither to illustrate a story in a standard theatrical manner, nor to demonstrate the physical dexterity of a dance performance. Rather, Ishinha seeks to show audiences a bird eye's view of a fictional (or vanished) urban cityscape through large-scale, realistic stage designs that recreate entire townships. Jan Jan Opera is often referred to as "dialogue without conversation, music without song, and dance without dancing." To audiences, the stage area seems a cosmic and oddly nostalgic foreign space, apparently existing as an extension of contemporary daily life.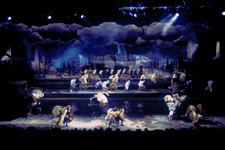 "Water Town"Theater photo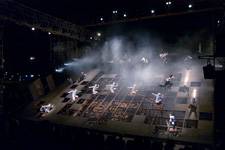 "Keaton"Theater photo

Another feature of Ishinha performances is that, regardless of an extensive use of avant-garde expressionism, performances are based on the spirit of the participants' service as entertainers. This is a trait commonly found among people of the Kansai area. Yukichi Matsumoto describes this trait, referring to Ishinha as "festive avant-gardism." Some past productions highlight the entertaining features of this Ishinha conceptualization. One production required the construction of a giant maze-like stage using about 3,000 wooden logs, while another depicted the lives of a people who lived on the water, an effect achieved through flooding the stage area with enough water to fill some 30 bathtubs. Rather than labeling Ishinha productions as performing art, it might be more accurate to say that such dramatic stage layouts are similar to circuses and theme parks in that their goal is to entertain people through a creation of the unusual. "I'm not sure if our style was born because we are based in Osaka," says Matsumoto. "It's possible, however, that we might have gravitated to a standardized theatrical style if Ishinha had its roots in Tokyo." In Osaka, people like standing out rather than staying cool; and a sense of festivity is often given preference to a sense of sophistication. Considering this, it is easy to understand how and why the troupe's distinctive performing style was successfully established, it miraculously balancing a sense of avant-gardism with entertaining presentation.

Ishinha is currently preparing for a production that will be held in Nagahama City, Shiga Prefecture this 2~6・9~13 October. Performed on a stage established on the foreshores of Lake Biwa, the upcoming production is entitled "Kokyu Kikai" (Breathing Machine) This production represents the second installment of their "20th Century Trilogy" series. It also represents the first Ishinha open-air performance in four years. The series' first chapter, "nostalgia," which was produced last year, vividly illustrated scenes of Latin America in the early 20th Century, while following the story of a young Japanese-Brazilian man. This year's production, according to Matsumoto, is a tale of war-orphaned brothers in World War II Europe. "Our stories often feature characters who are wandering for some reason, people such as migrants and drifters. This may be because we instinctively see a commonality between our own style (open-air performances on a stage) and people leading such transient lives." The foreshore stage will extend out into Lake Biwa. A large amount of lake water will be poured onto the stage in the closing scene to create the impression of Lake Biwa and the stage itself completely merging into one. Street stalls and live performance stages will also be established in the vicinity of the venue to further create a festive atmosphere.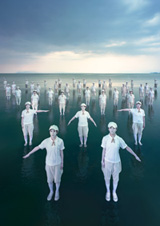 "Kokyu Kikai"image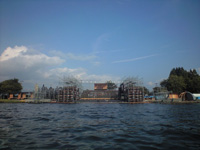 "Kokyu Kikai"theater scenery
Many fans say that they "experience" Ishinha performances, rather than using simpler verbs such as "watch" or "view." This is because such people appreciate Ishinha presentations as grand-scale amusements that inspire a person's artistic sensibilities and stimulate their other senses. It takes nearly two hours from Osaka to the performance site on Lake Biwa; however, it is certain that those who make the trip will quickly understand why Ishinha has chosen the location as a background for their production this year.