As the name suggests, digmeout is a talent-discovery project aimed at unearthing Osaka's young, unknown artists and kick-starting their careers. The project has successfully uncovered a number of talented young artists, whose work has subsequently featured in various media formats and products. These projects include a campaign program for the Osaka-based radio station FM802, work displayed at Kyobashi Station on the Keihan Railway Line, cash cards developed for Resona Bank, and work done with Sony regarding their Walkman products.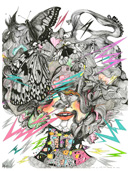 yum ("yu-mu") is a graduate art student living in Kyoto
The central player of the digmeout project is FM802, which started broadcasting in 1989.  Positioning itself as a radio station with a "visual consciousness," FM802 targets younger listeners with playlists consisting of mainly rock music. The station has gradually gained popularity, with it running unique "bumper sticker" campaigns and emphasizing a "heavy rotation" strategy, in which targeted songs are repeatedly played in order to promote new musicians. After establishing itself as the city's prime source of numerous hit tunes, FM802 began to expand its interests vis-à-vis fostering talented young artistically-inclined locals. Commencing with a logo contest and an exhibition of selected artists, digmeout has steadily grown, currently supporting prospective Osaka artists by promoting their participation in both domestic and overseas exhibitions. digmeout also publishes a series of art books, operates an official cafe-gallery, acts as an artist agent, runs Internet-based talent auditions, and organizes collaborative projects with major businesses such as Sony, Nike, and Nissan. A number of artists that the project has helped have become globally successful as well. Mr. Sumihiro Taniguchi, one of the project's producers, told us about the project and its future goals.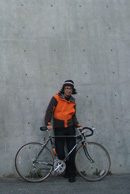 Producer Sumihiro Taniguchi
Q: Would you agree that FM802's positioning as a radio station with a "visual consciousness" has been the key to the digmeout project's success?
Taniguchi: As a radio station, we have attracted a lot of attention to the project from a variety of different sources and people. These include music labels, agents, artist management offices, and artists themselves. Opportunities for our artists have been created one after another, to an extent that is far in excess of what we had initially anticipated. For example, a certain musician liked one of our artist's works so much, that he decided to use these works on the jacket of his CDs. Other clients have launched collaborative projects with artists selected through our auditions process. The digmeout project is serving as a hub where artists can present their work in an environment that offers the potential of attracting matching clients.
Q: Your artists' range of work is not just related to the radio station or music in general; rather it has branched out into a number of different fields.
Taniguchi: We started seeing the necessity of supporting career-building as we heard from artists that had been selected at auditions. These people were determined to become professional artists. We knew that they wouldn't be able to make a living in art just by working for promotions. It was also unreasonable for us to discard them after certain campaigns were over. It was partly because of this sense of responsibility that we created digmeout as a functional system by which to support the futures of these budding artists.
In naming digmeout, we originally thought about calling it "FM802 Art Book," however, we discarded this idea because it sounded more like a radio station promotional project. Many people in Tokyo wouldn't have recognized the name of our radio station anyway, because we broadcast to the Kansai Region. Instead, we came up with the idea of calling our project digmeout (dig-me-out), because this describes the project's basic concept.  We believe this name also has added a certain centripetal force to our system.
Q: I understand that many artists whom digmeout supports have been globally successful.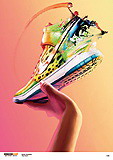 Ryohei Yamashita's work for the first "wazzawall" series, which is a collaborative project conducted with Nike.
Taniguchi: One of the central characteristics of digmeout artists is that their work tends to be pop, youthful, and refreshing. The global art scene appreciates such artwork, and the international support we have received has been a source of major encouragement. At a group exhibition by Japanese artists that was recently held in Hong Kong, our artists' work was treated equally with, and displayed next to, work contributed by today's leading Japanese artists.
As our artists began to regularly receive commissions, we also launched an agency service for them.  This is because many are still somewhat amateurs, and they do not know much about organizing, or what markets exist for their work.
Q: What types of artwork interest you most?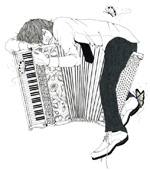 Makiko Kishino's illustration was featured on a Resona Bank cash card.

Taniguchi: We choose artists who have something different about them, even if their skills are still somewhat unrefined. As our name says, our mission is to unearth new talent, not to manage established professionals.

Q: How do you work with the artists you have chosen?
Taniguchi: To assess their capabilities and make suggestions for possible directions they may choose to take, I maintain strong communications with our artists. Indeed, we often have lunch or dinner together. My advice is not limited to issues of artwork, but can also cover other topics, including their lives and romances, etc. I suppose I am like their school counselor!  I don't take a business-like approach in my relationships with our artists. I suppose, it has been more a process of time and effort.

Q: One of the features of your online audition system is that anyone can enter their artwork at anytime, and they will receive feedback on their entries from both you and the other judges. What has the response been so far to this approach?
Taniguchi: We started the online audition system last April and we have steadily been receiving entries ever since. There are a number of websites where amateur artists can register and present their work to the public, but we are probably one of the very few sites that gives feedback to every eligible entry we receive. It is a time-consuming process, but it is also our way of showing our sincerity to serious artists regarding the audition process.

Q: What is the merit of working in Osaka?
Taniguchi: Since Tokyo is such a large city, effective media outlets are rather limited for artists. Furthermore, there is no real established system by which unknown artists can be discovered and nurtured. On the other hand, in Osaka it is not very difficult to reach out to young people via the radio, while also being able to raise the scale of promotions to something more than a mere "local area-only" event. One of the amusing things about Osaka is that its size is just right to allow you to be able to do anything.
Another thing that I really like about Osaka is that people appreciate the intrinsic value of something. They are not afraid to call something good, even if it is largely unknown. I think Osaka folks have an eye that allows them to appreciate what is really good. I also think the city has a very positive attitude about fostering and supporting new artists.

Q: What are your future goals?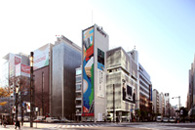 Kenji Kitazawa's work for "Canvas@Sony," a collaborative project that uses the 36-meter-high wall of the Ginza Sony Building as its canvas.

Taniguchi: Up until now, most of the artists we have supported have been illustrators, but some of them are now showing potential vis-à-vis becoming successful contemporary artists. Others who have completed collaborative projects with major companies have made a successful transition to the next stage of their careers. Our current goal is to create an environment where our artists can encourage and learn from each other, thus improving themselves and their colleagues.


With its firm belief that name recognition is not the only measure by which the quality of art is determined, the digmeout project continues to seek new talent, supporting such talent through the creation of new opportunities. The project's innovative style, along with the passion of Osaka and its residents, will be a locus in which new and distinctive art is created, such being subsequently disseminated worldwide.