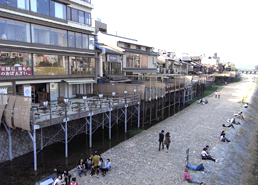 Kawayuka on the Kamo River is a popular Kyoto summertime pastime. About 90 restaurants of various genres now offer kawayuka, everything from kaiseki (traditional Japanese banquet-style dining) to French cuisine, to bars and cafes.
One of the seasonal sights of summertime Kyoto is the open-air, deckwood-terraces stretching along the banks of the Kamo River. A number of riverside restaurants offer clientele the opportunity to sit at tables on these deckwood-terraces, enjoying fine food and beverages while listening to the relaxing sounds of the meandering river, and experiencing the cool air rising off the water's surface. This custom of riverside dining, called kawayuka or kawadoko, began in Kyoto as a means by which to endure hot and humid summers. Adapted to the old capital's history and its' sense of sophistication, kawayuka became a favored Kyoto pastime during the Edo Period. It has continued to be cherished through to modern times.

The community and business owners of Osaka have long-wanted to create a similar vehicle by which the city's riverfronts can be enjoyed. These people believed that riverfront deckwood-terraces, similar to the kawayuka of Kyoto, would connect the land and rivers of Osaka, and contribute to the city's development as one with a rich water-related culture. With a common vision, restaurateurs, building owners, and members of non-profit organization (NPO) local revitalization groups gradually came together to launch a project for the development of kawayuka in Osaka. The opening of "Kitahama Terrace" this October celebrates the first major outcome of this passion and effort.

"Kitahama Terrace" is still a work-in-progress, and it will only be open for the month of October this year. Three restaurants are participating in this experience; "OUI" (Italian cuisine), "Terubo" (Japanese soba noodles), and "Izayoi" (Osaka local cuisine). All three will establish themselves on the south side of the Tosabori River, between the Yodoyabashi Bridge and the Higashi-Yokobori River.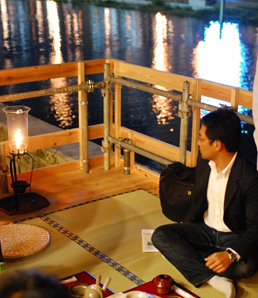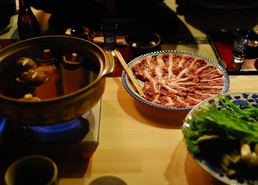 "Terubo" is one of three restaurants participating in the "Kitahama Terrace" project. Customers can enjoy soba noodles while experiencing fresh breezes from the river.



Neki is an Osaka dialect word that means "near" or "in close proximity." Although rarely heard today, people used to use it in phrases like this:
"Kawa-no neki-e ikimashoya. Suzusii-omasse (Please have a seat near the river. It is cooler out there)."
Picture a young okami (restaurant proprietress) speaking to one of her customers who has just arrived at the restaurant and ordered a glass of beer to cool down. In times gone by, when there were no air-conditioners that could alleviate the heat of summer, riverside restaurant tables were literally "the best seats in the house." Enjoying a glass of cold beer on a summer evening, while seated at a riverside table was surely a luxury back then. This is actually a scene captured in Imamukashi Naniwa-no Natsu; Showa Jidai ("Summer in Naniwa Now and Then; Showa Period"), a record released in 1930 (the 5th Year of the Showa Era). This unique production was composed of skits and accompanied by various sound effects. It depicted Osaka townscapes during the so-called Dai Osaka (Great Osaka) era.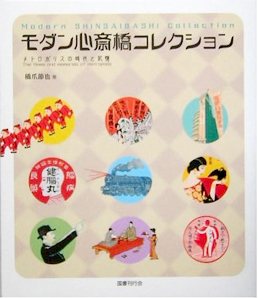 The skits were adapted by Koen Hasegawa (1904 - 1977), who became a contract writer for the newly-opened JOBK radio station (the forerunner of NHK Osaka). He later would have a major influence on the development of radio dramas in Japan. The "Summer in Naniwa" recording incorporated sound-bits of a baseball game broadcast, jazz bands playing popular tunes, store clerks enjoying a respite while their master was on vacation, and the hustle-and-bustle of the Midosuji district. Using a comical tone, the lively scenes and sounds of the recording highlight the contemporary lifestyles of people back then (and the near-future that they, themselves perceived). The record clearly depicts that, in the early Showa period, some exclusive Japanese restaurants in the Naniwa district offered special riverside VIP tables during summer. In this respect, "Kitahama Terrace" can be viewed as a first step in recreating such nostalgic waterfront scenes. It was not an easy task, however, to bring kawayuka back to Osaka…. (to be continued)
"Modern Shinsaibashi Collection" (Edited by Setsuya Hashizume, et.al, published by Kokushokankokai) This book focuses mainly on the prewar "modern" age. It is an artistic work that introduces a history of Shinsaibashi, one of the largest entertainment districts in Japan. It makes extensive use of beautiful graphics including colorful postcards, advertisements, magazines and more. The book comes with a music CD, directed by composer Masato Mori. This CD includes a recording of Imamukashi Naniwa-no Natsu ("Summer in Naniwa Now and Then") and other early Showa songs such as Osaka Koshinkyoku ("The Osaka March") and Dai Osaka Chikatetsu Koshinkyoku ("The Great Osaka Subway March"). The included Osaka Kenbutsu ("Osaka Sightseeing") recording uses an actual recording from a guided-sightseeing bus; with commentary covering major sightseeing attractions of the Dai Osaka ("Great Osaka") Era. Listening to this, it seems that the Dotonbori River was already quite dirty, even way back when!