Without a doubt, Shinnoske Sugisaki is a designer who has strongly and distinctively demonstrated his presence in Kansai's graphic design industry. Through the visual worlds he creates, Sugisaki continues to suggest both that the potential of design as a messaging tool goes beyond the barrier of language, and that visual communications possibilities can be achieved in the future via digital technologies. Here we attempt to analyze the essence of this unique vision.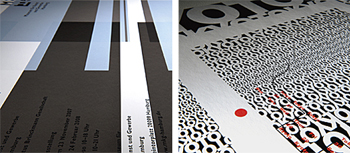 The work of Shinnoske Sugisaki is comprised of numerous geometric forms that are vividly toned and rhythmically repeated. Inorganic visual elements within his work begin to emit an organic energy while in a state of ecstasy reminiscent of warm-blooded organisms, as they go through a continuous fissional and frictional cycle at furious speeds. What is expressed in Sugisaki's work is the very moment of life's inception, this occurring in a universe that is called "digital design."
Shinnoske Sugisaki defines his mission as "designing information as structure" and "impressionism as unconsciousness." He takes an approach to design that is reminiscent of both physics and quantum mechanics. Traditionally, a scientific premise has been that everything in this world is essentially composed of energy. As such, this premise implies that thoughts and ideas are also energy-based. According to contemporary physics and quantum mechanics, there exists interchangeability between matter and energy. Therefore, when matter collides with rapidly-moving energy molecules, it loses its structure while itself transforming into massive amounts of energy.
A similar phenomenon can be seen in the graphic design work of Shinnoske Sugisaki. Using grids, Sugisaki adds regularity to the matter information and visual elements incorporated in his work, vastly multiplying these components and introducing a structural complexity to them. Within this complex structure, visual elements collide resulting in a loss of sensory perception of them representing matter; in turn this sensory perception is replaced by a transformation of these elements into visual stimulus, with this stimulus offering a certain cognitive energy. Such work highlights the thought processes of Shinnoske Sugisaki, in that he attempts to exclude excessive information, organizing and refining what remains in order to realize a new discovery within the context of his work.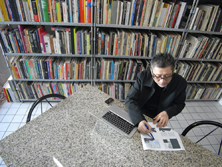 Needless to say, computer technology developments have significantly influenced the style of Shinnoske Sugisaki. When first introduced to computers in the late 1980s, Sugisaki chose to fully integrate himself with the technology, rather than merely using it as a design tool. His aim was to fully utilize computers by treating them as an extension of the self in much the same way as he used his own hands and brain. This attitude reflects that of musicians, who use musical instruments as a vehicle through which to play their music. Indeed, this attitude explains why Sugisaki designs often possess certain musical qualities. In fact, when younger and more impressionable, Sugisaki spent much of his time preoccupied with music rather than with visual design. In doing so, he gained a range of experiences on which his design activities are now based.

Since his introduction to computers, Sugisaki has tackled the technology head-on in order to understand how he could visualize his thought processes so that his mind's eye could be reflected in his work. To achieve this, he initially adopted a repetitive basic-training approach to the technology as a "prologue for the purpose of defining the future structure" of his work.
At his personal exhibition entitled, "Invisible Shape" (1995), Sugisaki was recognized as being successful in his attempts to extract life-force from the naked human form.
He achieved this through eliminating existing and stereotypical preconceptions.
At another solo exhibition entitled, "Elementism" (2002), from a multifaceted perspective he examined the potential of structuring visual elements such as those comprising sculptures. This highlighted the special feelings Sugisaki has for sculpture (with these feelings bordering on a fetish).
At his "ANONYMA" solo exhibition (2005), Sugisaki further pursued efforts to realize a sense of anonymity, by excluding his own style characteristics and emotions. He did this by experimenting with new rational designs, and orientating himself more towards clearer expressionism. What came through in this work, however, was both a strong sense of uniqueness, and a certain vision in terms of an awareness of the self as the creator of this art.




In 2007, Sugisaki and Yoshimaru Takahashi (an Osaka-based art director) were invited by the Museum für Kunst und Gewerbe in Hamburg to hold a collaborative graphic design exhibition. This event was entitled, "Virtue, Truth, Beauty – The Graphic Design of Shinnoske Sugisaki and Yoshimaru Takahashi." The exhibition gave Sugisaki an opportunity to offer a retrospective of his work, which in itself aided him in developing a more objective view of graphic design. The pair teamed together for another exhibition at the end of 2008 ("Virtue and/or Truth"). In this exhibition, Sugisaki established "Solidgraphy" by pushing himself in a new direction, focusing on the relationship between the self and his designs, while incorporating the concept of "gaps" existing in the expressionism of his work. Indeed, this exhibition seemed to indicate Sugisaki returning to a sense of humanity, after all the exploration that his work had made with regard to digital communications.
Next, Sugisaki took up a new challenge in his private exhibition, "Design Minus Art" (Spring 2008), trying to realize the beauty of formative art by creating silkscreen prints. This exhibition was successful in that Sugisaki highlighted a paradoxical characteristic existing in his own design construct, in that his work could be both artistic and sans artistic elements. His designs, whether for the purpose of daily communications or as a mere form of experimentation, nevertheless reflect a solidity and consistency of both thought and identity.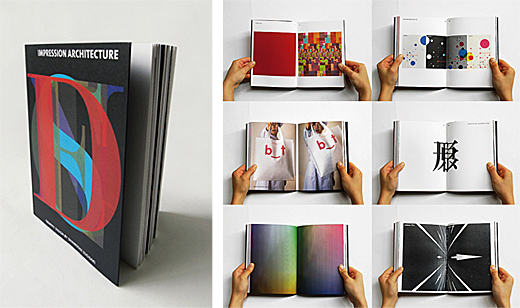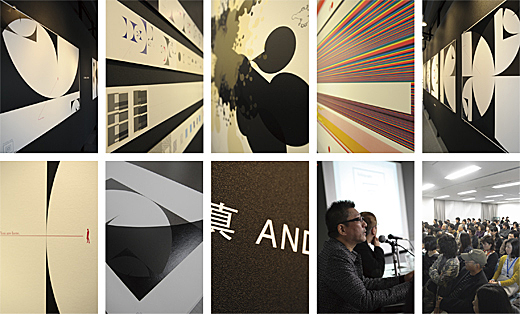 Sugisaki continues his inner journey through his own mind and thoughts. In the future, we may expect him to show us something that goes beyond his personal ideas as a creative force. On the other hand, a new sense of vision regarding the future of visual communications may appear in his work.